TATTOO AFTERCARE
What to do after the tattoo...
 Nakota only uses the best possible bandaging available  to ensure the quailty and ease of the healing process. The bandaging system implimented provides a level of comfort otherwise unknown in the tattoo community.

This state of the art bandaging will lock in your body's natural fluids and enzymes to keep your healing tattoo moist, and it will prevent scabbing. With your body's natural fluids and enzymes locked in, your cells will stay hydrated, tissues that are already dead will be broken down and removed more effectively, damaged blood vessels will re-generate more quickly, growth of new cells is stimulated and pain is significantly reduced.

It allows the skin to breathe and is completely flexable so it moves with your body without discomfort. 
but most importantly CLEANLINESS!
There are dirt and germs almost everywhere you go. The bandages used will provide an impenetrable barrier to protect your new work and keep you safe from infection. They will also protect you from the pain of friction, no more irritation or pain when your clothes or sheets rub against your new tattoo.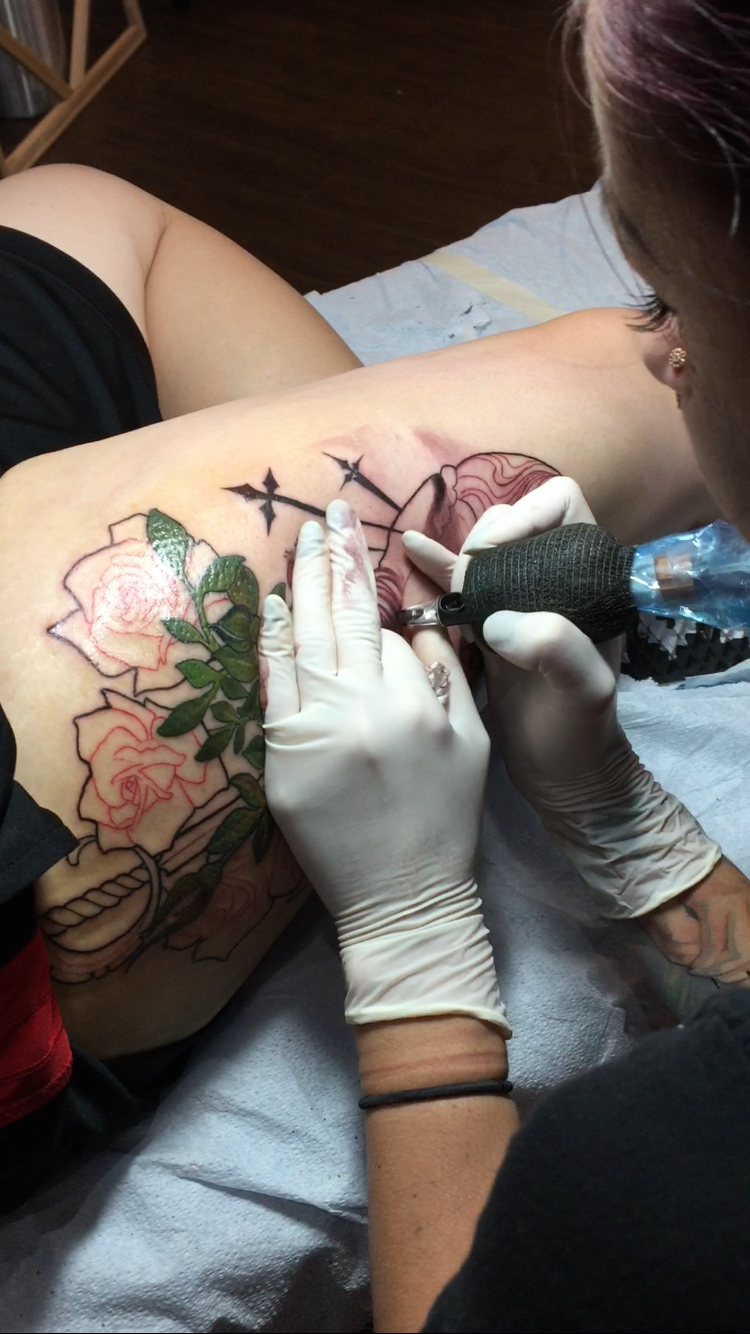 Sun fades your tattoos faster than anything. Just like sun will fade a business sign it will fade your tattoos. Keeping your tattoos out of the sun or putting a good sunblock on your work before you go out in to direct sun will keep your piece looking fresher and brighter much longer!
DON'T PICK!! It is normal for skin flaking to happen during the heal. I know it's tempting, but don't fuck with it. Leave the flakey skin/ scab to come off naturally in the shower or risk pulling some ink out with it. 
After your procedure is finished and you have your new tattoo it will then be cleaned up and bandaged. Leave this bandage on for 48-72 hours. Continue with life as normal. Your bandage will be able to let your skin breathe but not allow outside water in. 

After your 48-72 hour wait take your bandage off SLOWLY in the shower. Just peel up a corner and slowly, while letting the water run over it, peel the bandage off and throw away.  Procede to wash your tattoo with antibacterial soap in warm water. Just use your hands to wash your tattoo. Your skin will still be sensitive to abrasion. 
Pat dry your tattoo and let sit 5-10 minutes before applying a VERY THIN layer of non scented hand moisturizer such as Curel or Lubriderm. Gently rub it in to your tattoo like you would a hand lotion. You just want to moisturize your tattoo. it should not be shiny or greasy at all when your done. 
Continue to wash your tattoo in the morning and evening for the following 2 weeks. After you wash the piece rub a little moisturizer on. 

After the first 4-5 days or so your skin may flake up like after a bad sunburn. This is the dead skin coming off and is completely normal. Howver it is important not to pick at it! let it come off naturally in the shower. 
​When choosing a lotion or ointment to use on your new tattoo  make sure they are not scented as scented lotions have alcohol and will not only possibly burn a little but will also dry your skin out.

Widely available options at drug stores we recommend-

-Curel (lotion)
-Lubriderm (lotion)
-aquaphor (ointment)
If you're looking for only the best here are some luxury aftercare products that are not only organic but smell amazing and sit lightweight on the skin 

-
Inkeeze
 (ointement) available next door to Vatican Studios